How many times have you heard stories about cars breaking down right after the manufacturer's warranty expires? With Mechanical Breakdown Protection from Car Solutions, your members can rest easy knowing they are covered. Our plans are designed to provide "total peace of mind" so that unexpected repairs won't strain their budget.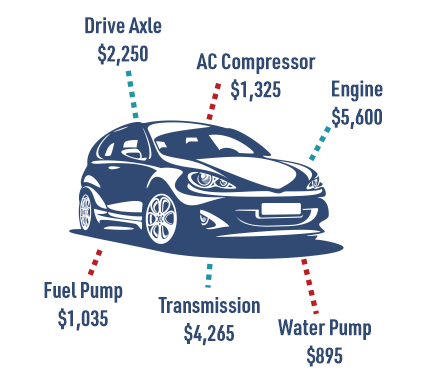 Avoid Costly Repairs
Most basic warranties (known as bumper to bumper) are usually for the first 36 months and 36,000 miles. As a vehicle ages the cost of repairs dramatically increases and once the basic warranty expires, without an extended warranty, the unexpected repair cost could be in the thousands of dollars.
Our plans extend coverage to virtually all mechanical and electrical components of your member's covered vehicle. These plans are available for both new and pre-owned vehicles and have benefits that extend beyond the cost of repairs.
24 HOUR ROADSIDE
ASSISTANCE

Tire change, battery jump start, lock-out service, fuel and fluid delivery, and towing up to 25 miles to the nearest qualified repair facility.

Up to $30 per day, $180 per claim. Additional $30 per day due to a delay receiving parts.

60-day money back guarantee if no claims filed.

No out-of-pocket costs for covered repairs.
Tire will be replaced or repaired due to damage from road hazard. Up to $125 per claim. $500 maximum benefit per contract.

TRAVEL AND LODGING
ASSISTANCE

Travel and lodging assistance if breakdown occurs more than 100 miles from home.

Transferable if within 15 days of sale of the covered vehicle to an individual. One-time free to family, $50 transfer fee otherwise. Not transferable to a dealership.